PGS 2012 - A recap
Posted 2012-10-15 razrrr_
PGS 2012 - A recap
FnaticRC has once again crowned themselves the winner of a tournament. This time they took home their share of the $15,000 prize money of the Pro Gamer Series tournament and can add another trophy to their showcase. But it wasn't an easy path for our boys and thus we recap the entire tournament for you.
The groupstage
Even before the tournament started it was clear that it wouldn't be an easy tournament for our team and the boys knew that as well. So the groupstage started off really well for them by beating GamerHouse with a scoreline of 2:0. The Brazilian side never really got their game going, so it wasn't a too hard start our team and they saved some energy for the upcoming games. Next up was exotic, who haven't appeared on too many LANs and thus Karrigan and Co. and had definitely a harder time beating them. Eventhough they took a quick 1:0 map lead, they came into some trouble on de_dust2 when exotic were up 9:6 as Terrorists, but ultimately FnaticRC was able to quickly recover and crush them 10:0 to save themselves a spot for the playoffs.
FnaticRC discussing their game



In their last game of the day FnaticRC had to face Place2Play.ru, a team they played against many times before. A few days before the Russians had announced Neo as a stand-in for the tournament and so their playstyle became a bit unpredictable. On de_tuscan both teams didn't show any weakness and didn't give any gifts to each other, but eventually FnaticRC was able to come out on top and turn the game into their favour. Next up was de_dust2 and our boys showed why they won every tournament they participated in this year. With a scoreline of 16:5 they beat the Russians and moved on to the playoffs in the first rank spot. After a hard day our team went to the Hotel room where they shot a short video, recalling the day.
The Playoffs
In the semi-final our team met their fellow countrymen of team Anexis, featuring the likes of BERRY and Nuggi. And the day began just like the other ended - with de_dust2 and a quick 1:0 map lead. Just like Place2Play.ru the day before the Danish side of Anexis didn't have a single chance and were outplayed by FnaticRC, which were at that time only one map win away from the Grand Final. But on second map Anexis slowly got their game going and now put up a good fight, which led to a 8:7 half-time lead for the guys gathered around Karrigan. Following the win of the pistol round, it was a only a formality for FnaticRC to beat Anexis and move on to the Grand Final, where they would face Natus Vincere.
And that game was definitely Grand Final worthy and can only be recommended to any Counter-Strike fan out there. With close rounds and some sick headshots this game had it all. The first map was de_train and FnaticRC started off on the Terrorists side. They quickly took a 3:0 lead after winning the pistol round, but Na'Vi didn't seem to be very impressed and won their first equipment round. In the following rounds the Ukrainians really got their A-game going, winning several very close rounds and even winning a full eco, especially ceh9 showed a really strong game and wasn't only once Fnatic's final station as Terrorists. With a 10:5 scoreline in favour of Na'Vi both teams then switched sides and FnaticRC was once again able to win the pistol round. This time our boys worked themselves up into a real frenzy and won round after round, eventually stopping at 15:10 and five map points. But Na'Vi showed why they have been one of the best teams for the past years and brought the game to the overtime, which they unfortunately won.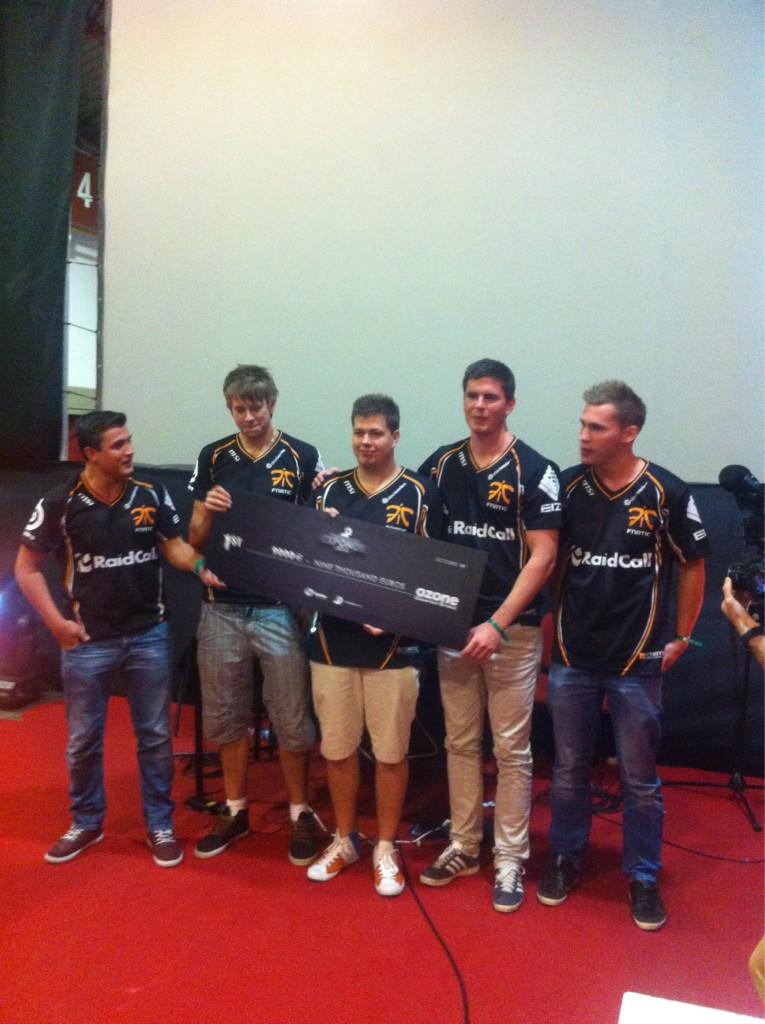 Karrigan and Co. with their $9,000 cheque

Next up was de_dust2 and just like before FnaticRC won the pistol and went on to a 3:0 lead, but once again they weren't really able to keep their game going and so Na'Vi won the first side 9:6. Our boys now really were under pressure, but were once again able to win the pistol round and won the next round as well, until the internet decided to break the game and shut down completely. It took the organizers almost one hour to get the game going again and fix the money problems. Now this time the Ukrainians really seemed impressed and grew confused, which definitely played into FnaticRC's hands. Ultimately the Danish dynamite won de_dust2 with a score of 16:10 and tied the game.

With the advantage of winning the last map and Na'Vi being completely confused, FnaticRC didn't miss out the chance to end this Grand Final really quick. On de_tuscan our boys won fairly easily and crowned themselves the Champions of Pro Gamer Series 2012 and took home $9,000. Here's also a video they did after they went back to the hotel where they give a big shoutout to you guys, our fans!

We will also have three interviews regarding our victory and the tournament coming up in the next couple of hours, so make sure to check back to Fnatic.com.